Expert Cumming Pediatric Dietary & Nutritional Counseling
Vickery Pediatrics provides medical care, dietary and nutritional counseling for newborns to age 21. From our Cumming office, our pediatricians help parents develop positive eating habits that form the foundation of good health for their children. Diet and nutrition can be an unexpected challenge for parents faced with meal planning, weight management and picky eating concerns. The help of an informed pediatric doctor will ensure your child gets the many benefits of a healthy eating routine.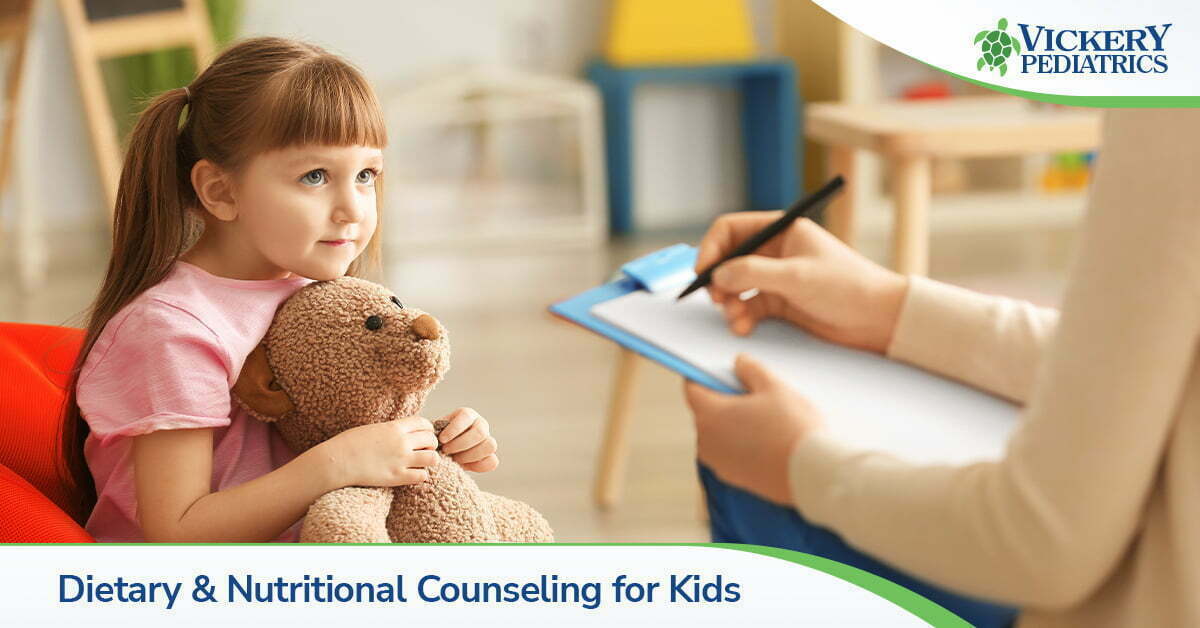 Dietary Counseling for Children in Cumming, Forsyth County and Beyond
Good nutrition is a leading contributor to physical and intellectual development in children. However, the dietary needs of infants, toddlers, school-aged kids and teens do vary considerably. At Vickery Pediatrics, our knowledgeable pediatricians help families overcome nutritional challenges with personalized guidance and wellness exams.
Our nutritional counseling for kids covers topics such as age-specific food types and portions, breastfeeding, solid food transitioning, picky eating, food allergies, weight management, nutrient intake and more.
We can help parents develop healthy diet plans, provide nutritional guidance, set manageable goals – and tackle obstacles to healthy eating. In practice dietary counseling is an ongoing process, and our well-child visits provide the perfect opportunity to build healthy eating habits.
Benefits of Nutritional Counseling for Children
Provides key vitamins and minerals for growth and development.
Prevents acute and chronic disease over the long term.
Contributes to improved sleep patterns.
Forms positive eating habits that can last a lifetime.
Promotes improved cognitive abilities.
Supports the bones, teeth and immune system.
Common Questions About Dietary & Nutritional Counseling
Most children start eating solid food at around six months. Around four to six months old, many babies try various doctor-recommended foods alongside breastmilk or formula milk.
Poor nutrition can lead to obesity, malnutrition, constipation, tooth decay, lethargy, issues with physical or emotional development  and more. Over the long term, poor nutrition increases the chances of heart disease, diabetes and many other illnesses. In addition, dietary counseling can also assist with food allergies that are common in young children.
Children benefit from a balanced diet that includes fruit and vegetables, grains, dairy and protein that provide vitamins, minerals and fiber. Because dietary requirements will vary depending on a child's age, our well-child visits can deliver more precise guidelines based on their needs.
Comprehensive Dietary & Nutritional Counseling in Cumming
Vickery Pediatrics assists parents with dietary and nutritional advice for newborns, infants, school kids, teens and young adults. Our pediatric physicians work with families in Cumming, Buford, Dawsonville, Gainesville, Johns Creek, Sugar Hill, Suwanee and Forsyth County. For help with your child's diet and nutrition, call (678) 990-2501  or request an appointment now.